BigCommerce Case Study: Tectran
BigCommerce Case Studies
Transforming B2B Customer Relationships with eCommerce
30%

increase in average order value

98%

increase in orders

157%

increase in revenue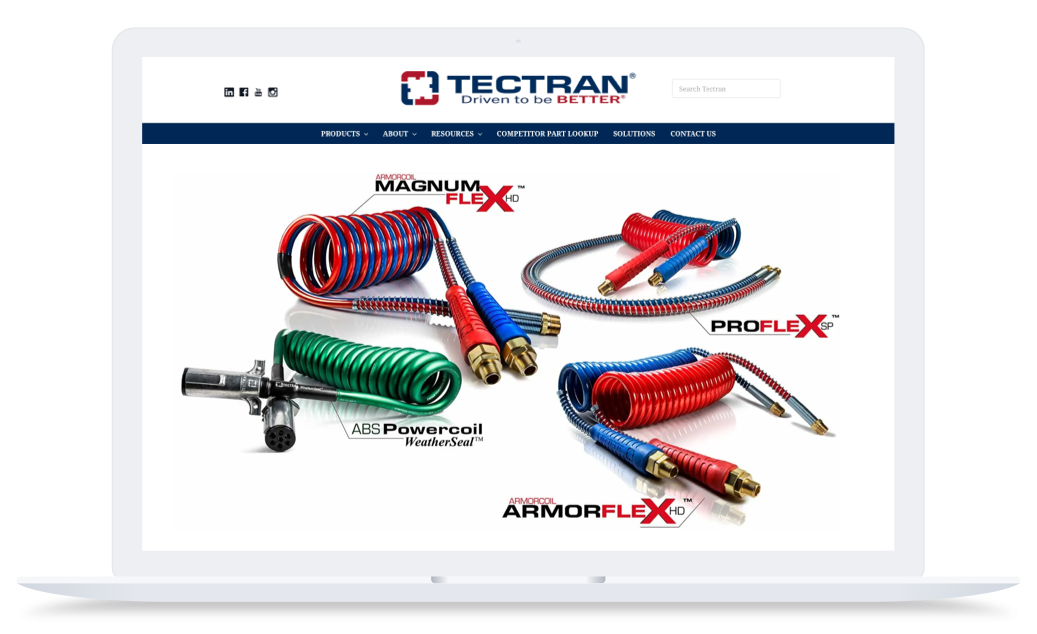 In for the long haul
A lot can be said about a company that's been around for decades. Words like trusted, committed, innovation, durability and quality are just a few that come to mind. They explain, in part, why Tectran has been around for 50 years come 2022.
Tectran is a manufacturer and distributor of air, hydraulic and electrical components and systems for the transportation industry. The company's products provide maintenance, operating, security and safety solutions to heavy truck, trailer and bus equipment operators. Tectran was founded in Ontario, Canada in 1972 and has since expanded its operations into the United States and China.
The company is known for its 3-in-One ABS AirPower hook-up lines. Think of the cords you see between the tractor and trailer of an 18-wheeler. These cords provide air and power back to the trailer so things like the lights and brakes work.
"While we're best known for our innovative tractor-trailer hook-up lines, we also distribute a few thousand other parts that go into maintaining and servicing tractor-trailers," said Tim Burns, Director of Digital and Marketing at Tectran. "In addition to our own unique items, we provide extensive interchanges to popular market brands and are constantly broadening our product offering and working with supplier partners to provide added convenience to our customers."
Challenge
Making B2B a B2C experience
Tectran President Bruce McKie, charged Tim with revamping the company's digital presence. This included transforming its custom, non-transactional, static website into a transactional and interactive one. 
"When I first came on board with Tectran the website was more like an online brochure. It represented our brand a little and we had some product information displayed, but it was not set up to handle transactions," said Burns.
Tim focused his efforts on finding an ecommerce platform that would enable Tectran to build an attractive website that offered a stellar B2C customer experience for the B2B company. He originally came from the world of B2C and knew the space well. He also knew a major challenge of the new website would be getting the company's sales team and its customers to stop creating and faxing in their orders and use the website instead. 
One thing Tectran did was to have numerous meetings with customers to learn what they would like to see in a new website. From there the brand went on a search and find mission to see what platform would be the best fit for its budget, and for what the company wanted to do.
Solution
BigCommerce makes B2B better
Insight, Magento and BigCommerce were all platforms considered by Tectran. "At the end of the day, BigCommerce was a much easier sell than the dollars required for Insight or the developers that would be needed for Magento. BigCommerce gave us the best B2B features out of the box and we could build the site ourselves with people already at Tectran," Burns said.
To further present a B2C feel to its website, Tectran needed a flexible platform that would enable the use of videos and other educational resources.   
"On our previous website, we would have a developer put a PDF up on a product page or link a video to a product page. It was very cumbersome. The developer would go back into the custom code, update the page and then send us a bill for the time to do the work," said Burns. "We needed to be more self-servicing on the marketing side of things. So, we needed a platform like BigCommerce to do that." 
Tectran launched on BigCommerce May 2019, and if you take a look at it's website, you'll notice it has a different look and feel than most B2B websites. And, as mentioned earlier, that was all by design. The company purchased a BigCommerce template and Tectran's in-house graphics team did the rest. 
"We were able to use existing photography and videos that we had and work them into the template. It was super easy," said Burns. 
On the back-end side of things, BigCommerce's tech partner, BundleB2B, played a major role in building out Tectran's B2B website.
"I don't think we could've transacted online if we didn't find BundleB2B and if they weren't open to developing beyond the functionality of its plug-in out of the box," Burns said. "Today we have everything specific to the customers tied into the website. We have a secure login that is tied to specific pricing, and then, we can update that pricing as needed in a reasonable way."
Results
Rolling into the digital age
Since launching on BigCommerce, Tectran has experienced a 30% increase in average order value, a 98% increase in orders and a 157% increase in revenue. Additionally, the company has seen an increase in new customer sign ups and more customers completing transactions online — instead of faxing or emailing in their orders.
Tectran now has a much more active relationship with its customers online. They come to the site multiple times a week to place orders, look up product information, watch related videos and read informative PDFs at their leisure. All this new functionality helped Tectran improve the shopping experience for its customers as well as broaden its audience base.
"Certainly traffic has increased a lot by adding the transactional capabilities as well as all the basics that you get with BigCommerce," said Burns. "I don't know that we would have been able to do search engine marketing if we weren't on a platform like BigCommerce."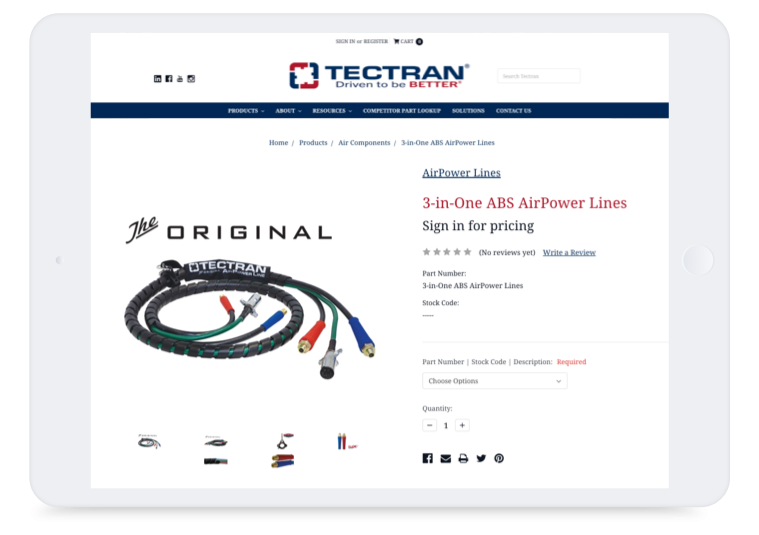 Looking Ahead
Staying focused on online shopping
In the immediate future, Tectran will continue its efforts to get more customers using the website as their primary method of shopping and ordering. Because a fair amount of orders still come in as PDFs and faxes, the thought of order automation using its Epicor ERP is a consideration. Also, adding live chat to its website is a future possibility.
Reflecting on the process of launching a B2C-style website for a B2B company, Tim encourages businesses to start small and to not be afraid of getting their hands dirty. 
"Don't just outsource the whole thing, because it's going to be the primary way you do things going forward," Burns said. "The people you'll have working on it will be the ones who will manage it going forward. At Tectran we have people on staff who weren't digital at all when we started, but are now pretty good in the online digital space."
One final bit of wisdom Tim offered in regards to improving the customer experience is for merchants to remember that at the end of the day, whether you are a B2C or B2B business, you are still communicating with people.
BigCommerce is proud to be a part of Tectran's efforts to put a human touch on digital business.
About AB Web Developers
Your local BigCommerce development partner that specialises in customisations to truly showcase your products and your store in a way that will put you ahead of the pack.
Find out more about our BigCommece Service
Learn more about our eCommerce work
Contact Us today to discuss your next project
AB Web has been working with BigCommerce for over 8 years, working with clients across Australia and New Zealand. Our software development team are here to help you make the transition from a conventional business to business transactional environment or migrate from an existing eCommerce platform. 
If you simply like to know more about eCommerce for your market sector or looking for advice on how to take the next step to integrate your existing systems and automate your end-to-end business processes...speak with one of our experts today (08) 9271 7791